Underwater Welding Equipment: Commercial Diving Tools Part Two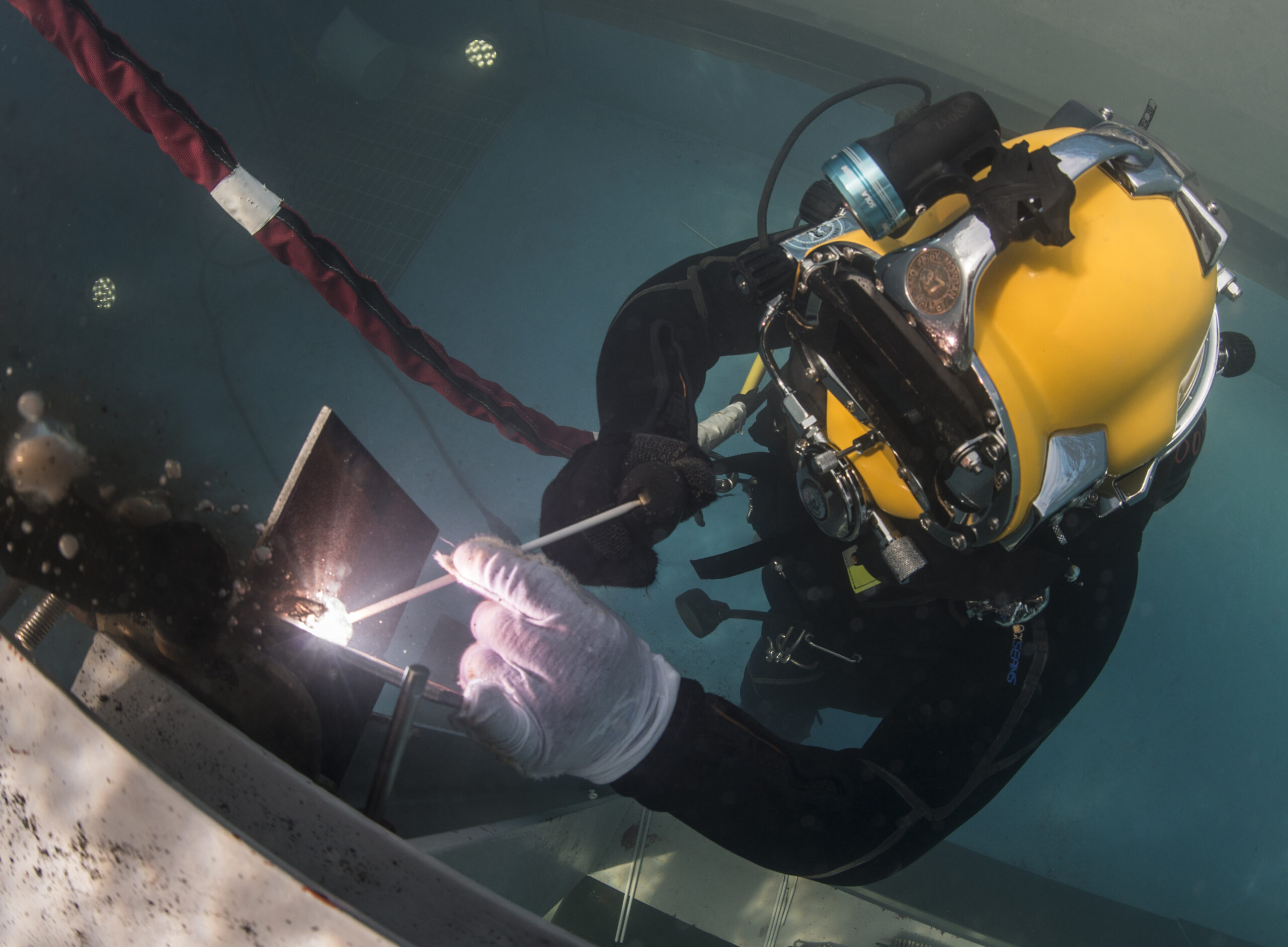 If you read part one of our underwater power tools series, you may have noticed one important tool set missing from the list: Underwater Welding Equipment. These are one of the most utilized sets of equipment in commercial diving and deserve an introduction all their own. Commercial Diver's use underwater welding equipment to repair pipelines, offshore oil drilling rigs, ships, dams, locks, sub-sea habitats, and nuclear power facilities. Wondering what kind of equipment commercial divers need to do something as counter-intuitive as welding in an underwater environment? Keep reading to find out more.
Underwater Welding Machine
Essentially a welding machine is the power supply for a commercial divers welding equipment. The welding power supply is the most expensive part of underwater welding equipment. The good news is whether working as a standard employee or a private contractor, a majority of the time, commercial divers work for companies with at least one ship dedicated to housing the appropriate equipment, including the power supply.
A few of the most common types of welding machines are:
Transformers –Converts moderate voltage and current electricity into a high current, low voltage electricity. The machine allows the welder to select the output current through various methods. These are typically the least expensive and most common types of welding machines.
Alternators/Generators –Uses alternators or generators to convert mechanical energy into electrical energy. Modern designs use an internal combustion engine, typically gas-powered, but older machines may use an electric motor to drive an alternator or generator. This type is the most straightforward and has the added benefit of easy upkeep.
Inverters – One of the most advanced designs. These first rectify the utility AC power to DC before switching (or inverting) the DC power into a stepdown transformer to produce the desired welding voltage or current. The inverter circuitry allows for more efficient electrical power conversion, overload protection, and even automatic spot-welding.
ESAB Rebel EMP 205ic
True All-Process- excellent performance on MIG, Flux-Cored, STICK, DC TIG and AC TIG industrial applications
Professional TIG features High Frequency start in DC and AC modes, balance adjustment, frequency adjustment and Pulse DC.
sMIG Technology – exclusive sMIG ("smart MIG") feature continuously learns and adapts to the operator's welding technique
Lincoln Electric Powermig 210
Dual Voltage Inputs (120V or 230V) means you can plug into any common power supply

Lightweight and portable–just 40 lbs.

Intuitive push-and-turn digital controls make setup a breeze

Large color display guides you through the setup process

Advanced options and settings are simple to access
Miller Multimatic 215
Multiprocess Capabilities

Color LCD with Auto-Set Elite

Auto Spool Gun Detect

Two Gas Connections

Multi-voltage Plug 120/240V
While there are many different power types for welding machines, each suited to their own purpose, none are specific to underwater welding. In many cases, commercial divers must make minor modifications to topside welding machines to make them safe and suitable to aquatic environments.
All that power from the machine needs to be made useable. The machine's current is transferred through the leads and into an electrode to accomplish this. Stingers are the compact, handheld pieces of welding equipment that firmly grip the electrodes giving commercial divers control over the welding arc. Stingers get manufactured in many different grips for individual comfort and varied amperage ratings suitable to various projects. Underwater welding stingers are less commonly manufactured than topside stingers because they require significant testing and research before being considered safe for aquatic environments. While topside welders have many more stinger types to choose from, most commercial divers use "twist-style" stingers with thick insulation.
Commercial Divers should pay close attention to how strong and easily removable the parts for their stingers are since they receive the most wear and sometimes need quick service in low visibility environments.
Designed to hold the electrode at the optimum angle to the work piece delivering quality welds while reducing operator fatigue.

Movable jaw design accepts a wide range of electrode diameters.

Meets Mil-H-865D and is Approved for Navy Use (ANU). All brass parts last longer under extreme conditions.
The Nemo Submersible Impact Driver Delivering is the world's first and only waterproof impact driver!
170 ft-lbs of maximum torque
Weighs only 2.9 kg (6.39 lbs) and measuring only 6 inches long
Built-in high power LED light to illuminate the work area.
Maximum operating depth of 50m (164ft). Features salt-water resistant black and red paint
An electrode, sometimes referred to as a rod due to its shape, is the part of the welding equipment that conducts electric current and binds two pieces of material together. Electrodes can be consumable, meaning they melt and become part of the weld binding itself, as in the case of gas or shielded metal arc welding. Electrodes can also be non-consumable, meaning they do not melt, such as in gas tungsten arc welding. Electrodes that work underwater need to be refined differently from topside welding electrodes. For safety and efficiency purposes, it's essential to only use these specifically manufactured electrodes when wet welding.
Underwater welding electrodes get marked with ratings in tensile strength, yield strength, elongation, and amperage.
Tensile Strength- this rating tells the user how well the electrodes hold up during the welding process. It's expressed in PSI or KSI on electrode boxes with their first two numbers. For instance, a rating of 30 means that its tensile strength is rated 30,000 psi. The higher the tensile strength, the more robust and reliable the electrode
Yield Strength- Yield strength measures how much material the electrode will produce per millimeter, also expressed in PSI or KSI. The higher the number, the more efficient the electrode burns.
Elongation- This rating measures how far the length of the electrode extends under high-stress conditions, measured in percentages.
Amperage Rating – This rating is essential for safety reasons. This rating must match the power of the welding machine you're using. Explosive reactions will occur if this does not match your machine's rating.
Proprietary formula key to reliability, ease of use
Certifiable welds with less labor costs
Blue tube is SofTouch Mild Steel Wet Welding Electrodes
Proprietary formula key to reliability, ease of use
Certifiable welds with less labor costs
Yellow Tube is SofTouch Stainless Steel Wet Welding Electrodes
Underwater welding equipment is one of the most frequently utilized toolsets in a commercial diver's arsenal. At Professional Diver Training Center, we train commercial divers for the real world, with real underwater welding equipment and real-life scenarios prepared by veterans of the military and commercial diving industries. Dive in, and start your journey into commercial diving today.
Want to see more tools of the trade? Part 3 of the Commercial Diving Tools Series is coming soon!
You're interested in becoming a commercial diver. You've already read up on the basic equipment you'll be using like helmets, wetsuits, gloves, and boots, but what about the bigger, heavier equipment like power tools? It might surprise you to learn that there are...
read more